Animal Kingdom is undoubtedly my favorite theme park, ironically because it's the one that feels the least like a theme park to me. It's incredibly easy to become immersed in the park's real-world culturally influenced architecture and atmosphere, and it has a high quality and well rounded collection of rides to boot. One of my favorite things about it is these small walking paths around the Tree of Life - they offer some nice photo angles and are almost always empty throughout the day.
At a glance it feels odd to have a land dedicated to Avatar at Animal Kingdom, but it really compliments the park's overarching themes of conservatism and coexisting with the natural environment perfectly. It's also arguably the most visually stunning themed land ever created by Disney; with lots of care taken to visual and audible details, it's easy to spend a couple hours in here and forget that you're in a literal concrete jungle.
Almost all photos of Pandora at night - including this one - are a bit deceiving, as they don't capture just how incredibly dark the land is. I was pretty taken aback by that the first time I saw it in person, anyway. That aside, there really is no comparison to the otherworldly feeling of the bioluminescent lighting on everything here. Later in the night once crowds have thinned out, there's an almost eerie feeling of isolation, which is one of my favorite things to experience at WDW.
It's a shame that Dinoland gets so much hate, because I truly think it's a stroke of storytelling genius, and I'll probably never let go of that opinion. I think it's easy to write the land off as ugly, and while that may be true in the context of Animal Kingdom, I think that take misses the point. The land is so purposefully extravagantly gaudy and absurd, but with the same level of careful detail and planning as anything else created by Imagineering.
In my opinion, Expedition Everest is probably the best attraction ever created. It's a masterclass in storytelling and world building on a themed attraction that extends beyond the ride into the surrounding village of Serka Zong, that while fictional, draws heavily on real Nepali culture.
What's most impressive about it to me is the incredible amount of lore conveyed solely through its environments and theming - there's no preshow video, no voiceover explaining what's happening. I think this is probably where it loses so many people; you have to

actually

put in some work to discover and piece together the story, rather than just having it spoon fed to you. But, I also think that creates a much more satisfying experience overall.
I like the stationary 'show' scenes on Everest, although I know some people think they ruin the ride's pacing. I think they do a decent job of building tension as the coaster itself and the encounters with the yeti both become more intense. Plus, as a fan of cool mechanical ride sounds, the insanely loud switch tracks are a treat.
I didn't mind Rivers of Light, but having a clear unobstructed view across the lake in its absence is nice. The use of conservative show lighting across Disney makes it possible to capture tons of stars - doubt I'd be able to get a shot like this at many typical amusement parks. Would be cool to leave the setup for a few hours and do a star trail timelapse in this spot.
Another favorite of mine, and another mine train coaster, albeit themed to the American southwest instead of the Himalayas. The Liberty Belle offers some nice perspectives of it, and it's easy to catch a few trains since one comes around this turn every 45 seconds or so.
It can be difficult taking photos of the Disney coasters that feel unique, since the majority of them have very limited viewing angles. One thing I do to try to get around this is to use slow shutter speeds to capture the rides' motion. In this case, a stationary frame to capture the train as a blur, and a panning shot to capture a sharp train with a blurred background. The latter took a few attempts to get right, but I'm really happy with how it turned out.
I'm glad Big Thunder Mountain is positioned at the back of the park with nothing substantial behind it - makes it feel a bit more isolated. Maybe if it weren't for the ridiculous purple and red light bathing the rock formations, the scene might look even a little more convincing.
This shot of the Liberty Belle and Harper's Mill is far from being original, but it's a hard shot to resist taking on a clear night. The stately architecture and lighting of President's Square contrasts nicely with the more rustic aesthetic of Tom Sawyer Island.
The rose gold castle wasn't exactly appealing in overcast weather, but my opinion of it pretty much did a 180 after seeing it in direct sunlight. The whole castle has a sort of metallic sheen to it, which is complimented by all of the gold colored accent pieces.
The new Tomorrowland refresh is aesthetically pleasing and certainly more coherent, but it feels a bit plain compared to the previous design. It had devolved into a chaotic collision of various aesthetics since its debut in 1994, but I always found the industrial art deco style of the land visually intriguing. At least some pieces of it remain, like the artificial palm trees in front of Space Mountain.
I stood frozen with my camera to my face for about 10 minutes waiting for this moment of the show, since it was my last opportunity to get this photo. The result was overexposed, but I managed to recover it well enough. I also considered using a slower shutter to capture the fireworks as light streaks rather than static, but this felt a bit less risky.
Main Street is probably at its best during the holidays, with the Christmas tree, lighting, music, and snow that feels absurdly authentic for what's probably just some mixture of soap. I didn't take a lot of photos of it, but I like this one of the Partners statue looking back towards the train station at dusk.
The 50th anniversary decor on the castle was nice, although it meant the absence of the Dreamlights. They're one of the nicest things about Magic Kingdom at the holidays so hopefully they return within the next year or two.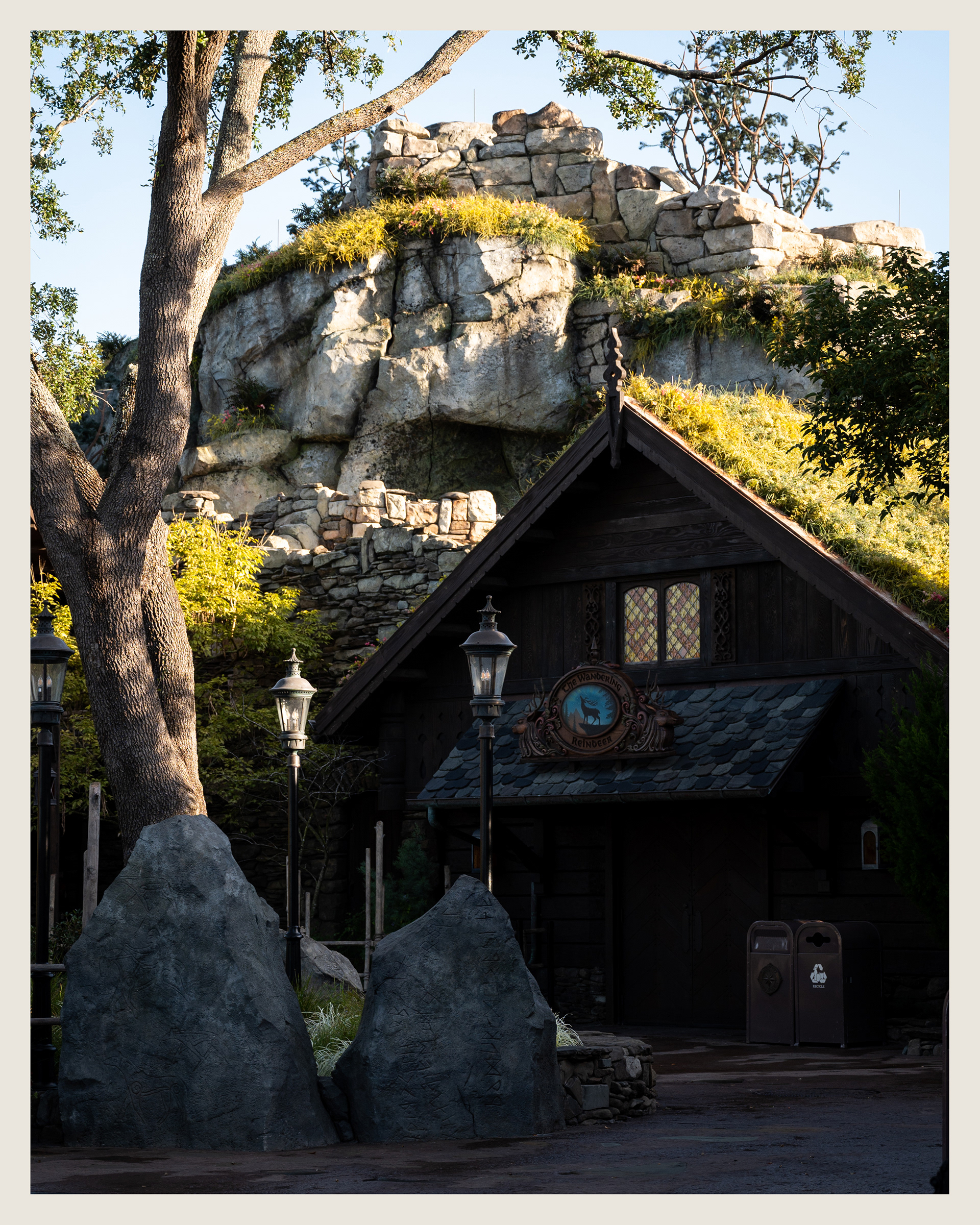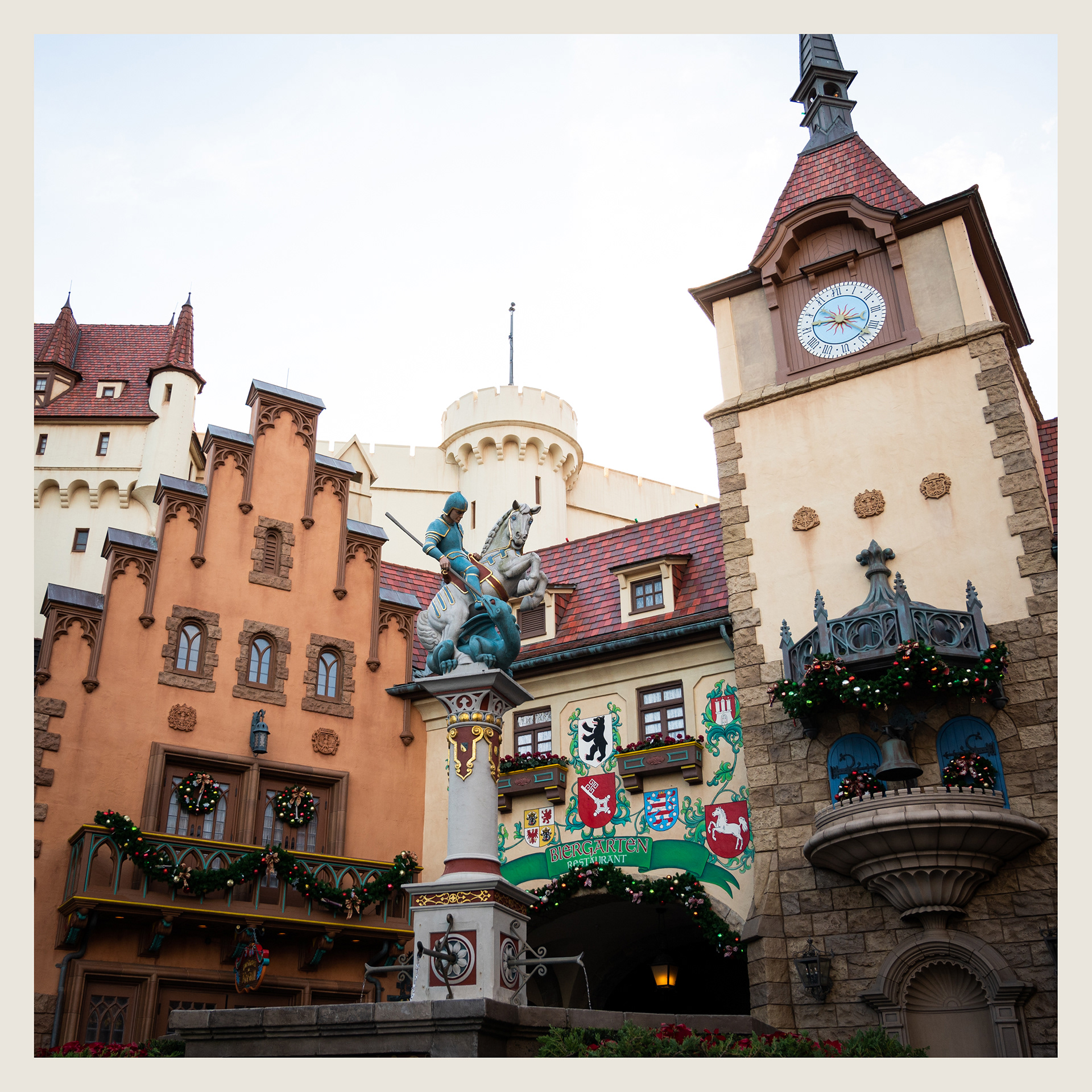 I'm not sure I recall World Showcase ever opening at the same time as the rest of the park, but maybe it has before. Not in an immediate rush to do any rides, I took the opportunity to take a leisurely walk around the pavilions with almost no one else around. I've done this at night after closing, but never in the early morning. Very relaxing way to start the day, even if I didn't get too many great photos out of it (mainly for lack of trying).
I'm not the biggest fan of Mission: Space, but the pavilion's large curving geometry and colorful reflective surfaces are a lot of fun to photograph.
As a kid I had a fascination with trains (as most kids do) and a particular love for these monorails. I more or less moved on from my 'train phase,' but my love for the monorails hasn't waned at all. Not sure what it is about them that's held my interest for so long.
Rainy nights usually feel like a setback in terms of taking photos, since I'm rarely dedicated enough to stay out all night shooting in it. I usually try to get something out of it though, since the wet pavement can make for some cool color reflections that aren't possible otherwise. I seem to take an unreasonable amount of photos of Spaceship Earth every trip, and the photos from this wet night are my favorite of it from this trip, so I'm glad I put up with the rain and stayed out to take them.
The prismatic pillars are a nice addition to Epcot's entrance, although I don't really have any sort of nostalgic connection to them. Still, it's nice of Disney to throw a small bone to people with a strong attachment to the park's history, especially when half of Future World has been turned into a dirt plot.
Rock n Rollercoaster's ride experience is pretty straightforward - lots of turns and inversions in the dark while Aerosmith music plays - but I've always thought the alleyway themed station is really clever. Watching a few trains move around the corner and then launch into darkness while waiting to board does a great job of setting the mood for the ride.
Didn't know anything about Runaway Railway and honestly kind of forgot about it leading up to the trip, but it was a really pleasant surprise. Bright and energetic with a level of chaos that compliments the new Mickey Mouse cartoons well. I struggled a bit figuring out how to photograph the ride's huge blinding neon sign, but settled on this tightly cropped low perspective. I fought the rain droplets on my lens for a while, but eventually decided to embrace them as part of the shot. Happy with how it turned out.
Some of the neon of Hollywood Boulevard.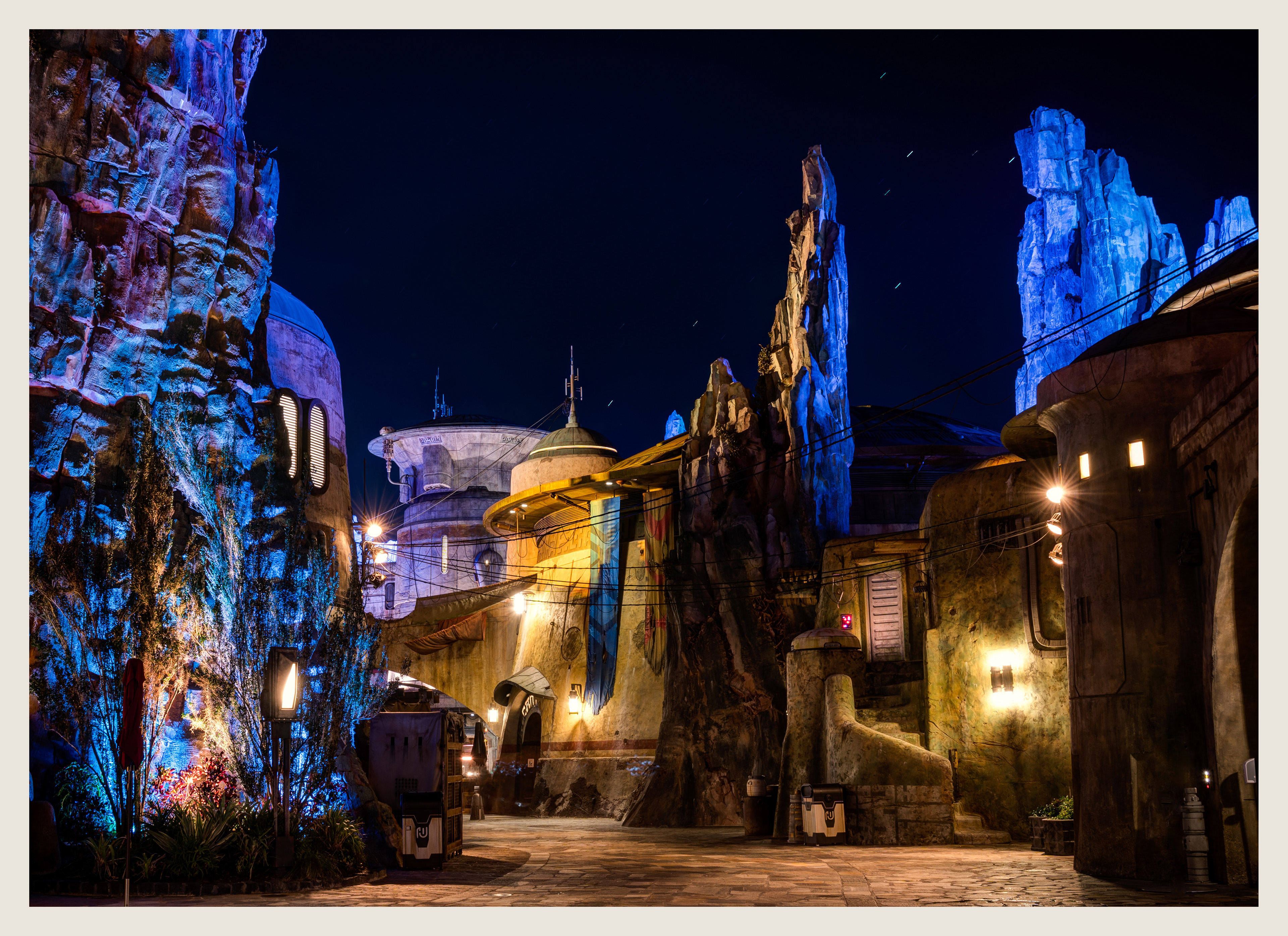 Some will disagree, but in my opinion Galaxy's Edge is probably the most impressive land ever built at any theme park in the world. It feels truly immersive and transformative, with impeccable attention to detail in every regard. The area almost feels alive with constant movement and audio effects.
Galaxy's Edge does an excellent job of incorporating lots of winding paths with different areas to explore and discover things, without a huge visual centerpiece. The Millennium Falcon is nicely tucked away in the back, and therefore has a similar visual 'reveal' as Diagon Alley at Universal. While not quite as dramatic as that, it's still hard not to be kind of awestruck by its presence.